Ironing Board Cabinet – The Most Popular Product This Year from Shenzhen Goodlife
Maureen 2015-05-08 13:12:10
Most families are using ironing board, butthe ironing board storage sometimes becomes a difficult job for the housewives.But with our wall mounted ironing board cabinet, the problem will be disappeared.
This ironing board cabinet is a smart andthoughtful design.
It is wall mounted, people only need to getappropriate position and fix it to the wall, then no need to worry about how tostore it any more.
Outside the door, there is a piece oflarge glass mirror. People can use it as a dressing mirror.
Inside the door, there are metal hooks onit, which makes it so convenient for people to hang clothes during ironing.
Inside the cabinet, it's the foldingironing board. We choose high quality heat-resisting fabric to cover the board,and the fabric part is easy to remove for changing or cleaning. The strong foldingironing board stand can support the board steadily, no need to worry about unstablesituation happen. Besides the ironing board, there are several storage shelves inside,this helps to organizing iron and related stuff well.
Please check the details for 2 of the ironing boardcabinets from below webpage:
GLI08035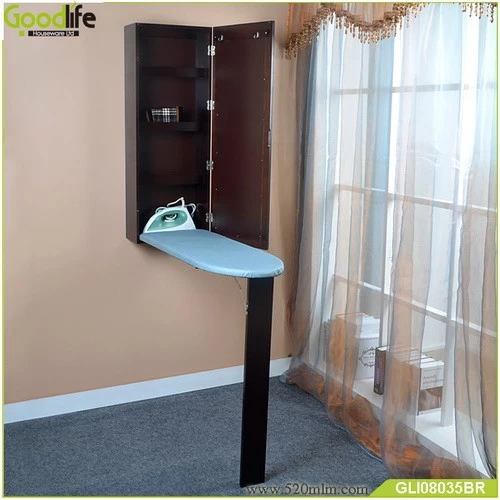 http://www.organizerfurniture.com/products/Wall-mounted-folding-wood-Ironing-board-cabinet-with-mirror-GLI08035.html

GLI08038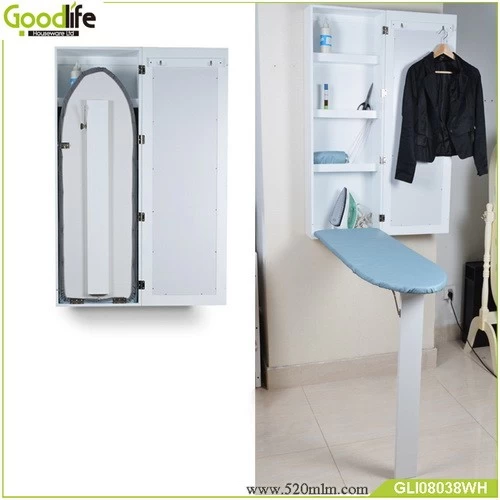 http://www.organizerfurniture.com/products/Wall-mounted-Fold-Out-Ironing-Mirrored-Wooden-board-cabinet-GLI08038.html